RESULTS-San Francisco Bay Area
25th Anniversary Celebration and RESULTS Benefit
25 years of making political will to end poverty and hunger!
Sunday, November 13, 2:30–5:30 pm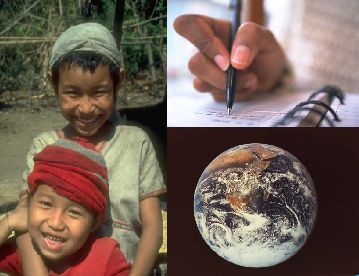 Come learn more about what RESULTS has accomplished in moving Congress to fund programs that educate and immunize the world's children, and help America's children start school ready to learn.
Please come willing to be inspired to make a donation to further this work.
At the home of Sue Oehser, 1845 Manzanita Drive, Oakland, two blocks above Skyline Blvd near Snake Rd.
Program: Composer, author, story-teller and violence prevention expert at Richmond's Neighborhood House Fred Jackson will begin the program with song. Congresswoman Barbara Lee's district staff director Jeffrey Thomas will also join us.
Barefoot Cellars has generously donated a variety of their wines, including champagne. We will auction the unopened bottles after the program.
Good music — good food — good people to meet with
Find out the amazing accomplishments of RESULTS over 25 years
Directions: From highway 24, take highway 13 south towards Hayward. Exit 13 at Moraga/Thornhill exit (2nd exit), veer left under freeway and turn left at first light onto Thornhill Rd. Follow double yellow line up hill about 2 miles to the end at Snake Rd. Turn left. Take Snake 2 blocks where it ends at large intersection on the west side of Skyline Blvd. Cross Skyline onto Manzanita, uphill. Sue's house is about two blocks up on the right. Park in the driveway or by the edge of the road. Leave 8 feet or more of clearance for traffic on the street.
If you cannot attend this event, please consider making a donation to RESULTS or RESULTS education fund. You can mail a donation of any size to the above address or see the RESULTS donation center.
RSVP and Info: Sue Oehser (Remove NO-SPAM before sending message), (510) 339-0243